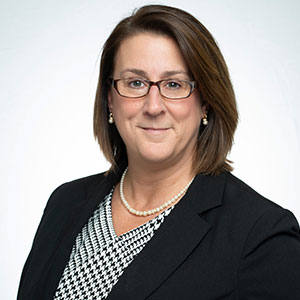 Lesa Vanotti is New President and CEO of Torrington Savings Bank
TORRINGTON, CT – Lesa Vanotti is the new President and CEO of Torrington Savings Bank, the 14th president in the Bank's 152-year history.
Vanotti was appointed to President & COO effective January 2020, as part of a 9-month CEO transition plan to succeed of John E. Janco Sr., who has been President & CEO since 2015. Mr. Janco retired on September 30, 2020.
Vanotti  joined Torrington Savings Bank as an Accounting Assistant in 1996. During her tenure she's held the titles of Accounting Officer, Assistant Treasurer, Vice President & Controller and Treasurer & CFO. She is a graduate of Torrington High School and Post College and holds a Master of Business Administration degree from the University of Connecticut.
Vanotti states, "As John and I complete our transition and I take the helm, I am humbled by the 152-year legacy built by my predecessors. I am honored by the trust placed in me by the Board of Trustees and I look forward to continuing to build and execute our plan for the future. John has been a supportive colleague and mentor, and, while I will miss his day to day guidance, I wish him a well-deserved, long and healthy retirement.  I know he will never truly be absent from the TSB or Torrington community landscape." Janco stated, "Lesa is well prepared to be the 14th President & CEO of Torrington Savings Bank. She has a thorough understanding of our business strategies. I look forward to Lesa leading our organization through the ever-changing banking environment."
Edwin G. Booth, Jr., Chairman of the Board of Trustees, added, "The Board looks forward to working with Lesa to write the next chapter of our history. She is ready for the task, and we are confident she will have much success. The Board of Trustees and Corporators thank John for his 47 years of dedicated service to the Bank. We all respect his character and work ethic and applaud his community service. We wish him all the best in the coming years."
Vanotti is a Torrington native who is active in the community. She currently serves as a Trustee of the Torrington Library,  is the Chair of the Board of Directors at Community Health & Wellness Center of Greater Torrington, and is a corporator of the Torrington Historical Society and Maria Seymour Brooker Memorial. She has served as a member of the St. Peter's School Board & Finance Committee, Asst. Treasurer of the United Way Board of Directors and, Secretary & Treasurer of the Women & Girls Fund of Northwest Community Foundation. Lesa is a member of the Institute of Management Accountants and the Financial Manager's Society and is an instructor for  the Connecticut Bankers Association School of Finance & Management.
She currently resides in Torrington with her husband, Tom. They have two grown children, Justin and Morgan.
Posted on: Thursday October 1, 2020
View All TSB News