Digital Wallet
A fast, secure, and contactless way to pay with your Torrington Savings Bank Mastercard® Debit Card.
Digital Wallet Benefits
You have your hands full, but now you don't have to worry about a forgotten wallet. Simplify your life by storing your payment information on your smartphone, making it easy to make purchases when you are on the go.
Enjoy Convenience: Pay quickly at a participating merchant using your mobile device and stop worrying about having your card in hand.
Pay Securely: Make purchases without transmitting your card number or name.
Hassle-Free: Who carries cash anymore? Reduce the number of touch points between different people and checkout with ease.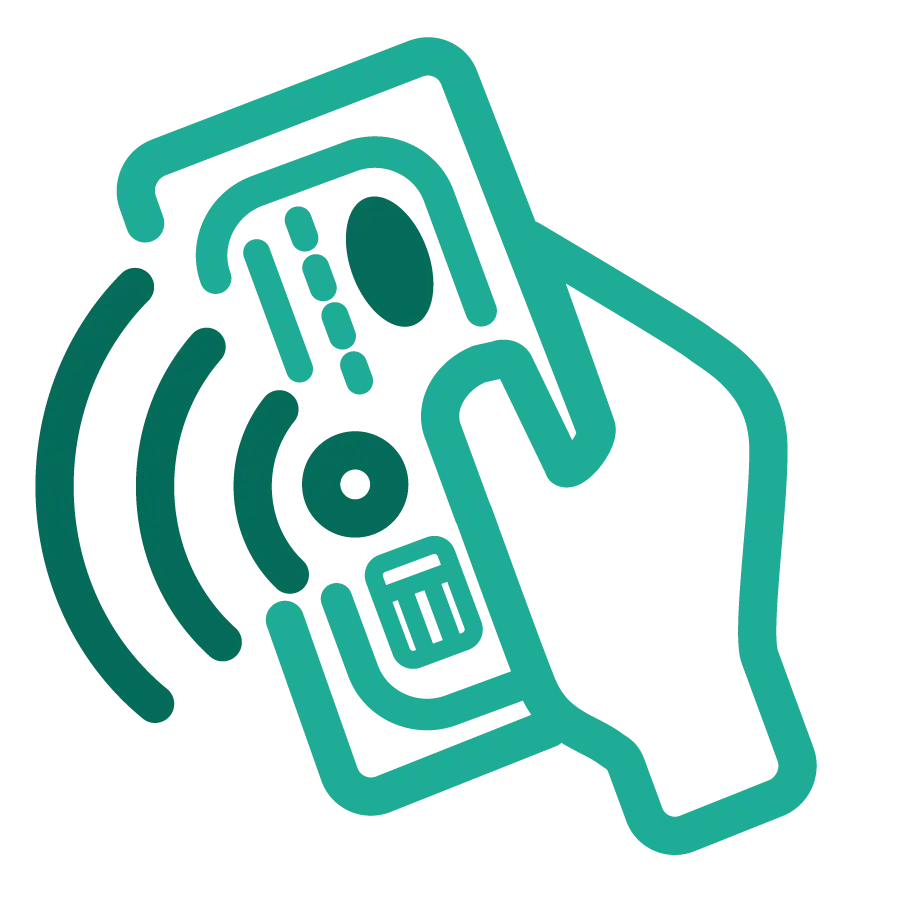 It's easy to get started!
Setup Your Digital Wallet
Step 1:
Add your Torrington Savings Bank Debit Mastercard® to your Digital Wallet.
Select your mobile wallet to learn how:
Step 2:
Then make your TSB Debit Mastercard your default card for payments.
Paying With Your Digital Wallet
Simply hold your smart device to a compatible checkout register to process your payment in a flash.
When you are checking out at a retail location, you can pay with your digital wallet by bringing your phone close to an NFC-enabled terminal. Simply look for your preferred wallet's logo symbols at checkout.
Select your TSB card (if you skipped step 2) and follow the instructions on your smart device.
Digital Wallet FAQs
Digital wallet is a method of electronically using your debit or credit cards without carrying the physical card. You can use it to make purchases in stores, online, and within the app.
Digital wallet is available through Apple Pay, Google Pay or Samsung Pay for all TSB debit cards. Pick the one that is right for you and start enjoying the convenience and security of digital wallet today.
If you lose or misplace your mobile phone/device visit your digital wallet provider for steps on how to lock your digital wallet. Select your mobile payment system below to learn more:
We highly recommend that you call your mobile phone/device carrier to suspend service.
You can also stop new purchases or ATM transactions by blocking your TSB card with a single tap immediately. The block can be removed at anytime. Follow the steps below:
Log in to online banking at www.TorringtonSavings.bank
Select "Cards" from the menu
Swipe to find the lost card
Tap "Block Card" (the Block Card option turns green)
It's easy to update your default method of payment to your Torrington Savings Bank debit card:
Yes, digital wallets assign an encrypted code that replaces your debit or credit card number. The actual number is never stored on the mobile phone/device. The encrypted code is used in the authorization process. If the code is exposed, your card is still safe. Additional confirmation is typically required before a transaction is complete, such as a fingerprint or passcode.
No, there are no fees associated with this service.
Details:
Message and data rates may apply.
Apple, the Apple logo, Apple Pay, Apple Watch, Touch ID, iPhone and iPad are trademarks of Apple Inc. registered in the U.S. and other countries.  Google Pay is a trademark of Google LLC. Android, Android Pay, and the Android Logo are trademarks of Google LLC. Samsung and Samsung Pay are registered trademarks of Samsung Electronics Co., Ltd. The Contactless Symbol is a trademark owned by and used with permission of EMVCo, LLC.
Mastercard is a registered trademark of Mastercard International Incorporated.
Digital Wallet features, benefits and functionality may vary.  For specific information regarding your mobile wallet, please visit the device's product page.
All trademarks are the property of their respective owner(s).