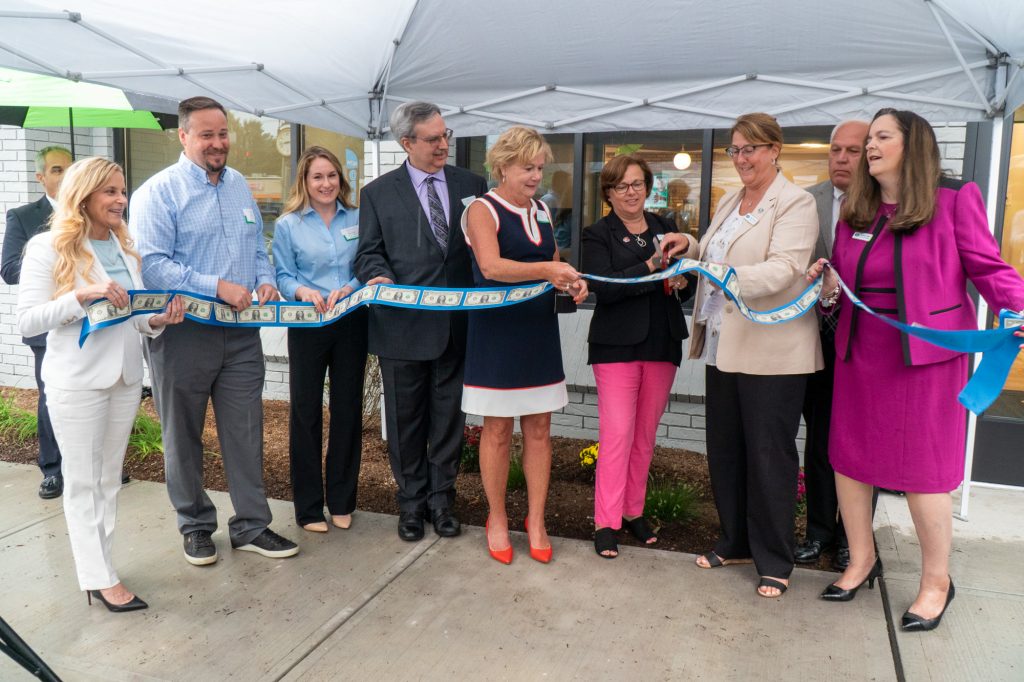 Torrington Savings Bank Opens Bristol Branch & Supports Local Nonprofits
Torrington Savings Bank officially opened for business at a Ribbon Cutting Ceremony for the new Bristol branch located at 888 Farmington Avenue (Rt.6). Members of the TSB team and Board of Trustees were joined by local dignitaries, business leaders and nonprofits to celebrate their further expansion into Hartford County.
Last year, the Bank announced plans to expand their branch footprint by acquiring a former United Bank branch. With the assistance of Network Design and Construction, Inc. and Phase Zero Design, TSB hit their mark of renovating the branch and being in the market by late summer of 2021.
Lesa A. Vanotti, President & CEO of TSB was joined by Mayor Ellen Zoppo-Sassu, State of CT Banking Commissioner Jorge Perez, and Cindy Bombard, President & CEO of Central CT Chamber of Commerce to say a few words regarding a new community bank joining the Bristol community. Vanotti stated "There is a great deal of thought and analysis that a community bank puts into making the decision to expand and choosing a new community. Bristol quickly rose to the top of our list as a place where our commitment to service would be welcome."
At a time where many financial institutions are downsizing their branch footprint, TSB is committed to serving the Bristol community. As a longstanding mutual community bank, they believe having a physical presence is imperative to best deliver on the interests of the many local area businesses and consumers.
Additionally, as part of the ceremony, TSB granted donations to five area nonprofits to whom were present to accept the support: Boys & Girls Clubs of Bristol's Family Center, Bristol Adult Resource Center, Inc. (BARC), Bristol Senior Center/CW Resources, Inc. Meals on Wheels program, The Carousel Museum, and the United Way of West Central CT." Supporting our communities financially is a long-standing tradition at TSB. We are proud to make these donations as part of our introduction to a City that has already welcomed us so warmly." Vanotti further stated.
In addition to the ribbon cutting event, TSB will be hosting a Grand Opening Event on Saturday, September 18 from 11am – 2pm. The public is welcome to visit this family friendly event which will include ice cream, The Grilled Cheeserie Food Truck, and more.
You can visit the Bristol team at their new location on Rt. 6 Monday through Saturday, or by calling 860-785-0076. For more information on Torrington Savings Bank's Bristol branch or to open an account online visit: www.TorringtonSavings.Bank
Posted on: Wednesday September 1, 2021
View All TSB News